When it comes to your wedding day there are certain things you think of: family, friends, a beautiful white dress, delicious cake, fun music, and cannabis?? With the legalization of recreational marijuana in an increasing number of states, many couples are having cannabis weddings to celebrate their love.
What Is a Cannabis Wedding?
Couples looking to get married are starting to incorporate their love of cannabis into their wedding celebrations. (That is of course if their wedding is taking place in a state where recreational marijuana is legal.)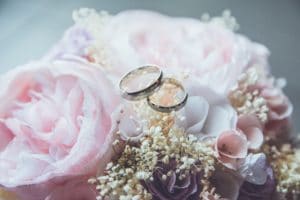 It turns out cannabis wedding have gained so much in popularity that there are even Cannabis Wedding Expos that you can attend if you are interested. Couples can have marijuana incorporated discreetly into their wedding – such as having the plant as part of the wedding bouquet, having a full-on cannabis extravaganza with a cannabis bar and its respective "budtender", or meeting somewhere in the middle with including weed or customized matches in the party favors for guests. The Cannabis Wedding Expos feature various cannabis-themed booths including CBD infused chocolate fountains and drinks that include marijuana. Sometimes couples even come with a signature strain to have at their wedding, similar to having a signature cocktail.
Don't Forget the Cannabis Bar
A cannabis wedding business called Irie Weddings & Events based in Colorado has become popular for their elegant cannabis bars they offer at weddings. Their website states they are the only company in the country to carry "cannabis consumption liability insurance", which they claim is comparable to having liquor liability insurance.
They offer different cannabis bars and an option of CBD bars for those customers who are not sure how their guests will respond to traditional cannabis. Cannabidiol, commonly known as CBD, is a phytocannabinoid which is a plant chemical derived from the cannabis strain. It works differently in the body than the full plant, because it does not include THC (aka tetrahydrocannabinol), which is responsible for the "high" feeling associated with marijuana. They offer different ways to utilize cannabis at these bars – either through sipping or smoking or even both.
However, cannabis is not included in the pricing of these bars. The average price of a cannabis bar from them is $750 for a wedding of one hundred people. The couple would be responsible for buying all the marijuana themselves.
They also have other creative ways to incorporate cannabis into weddings. They have a "unity bowl" which is a double hitter glass pipe with two flames to light the single bowl. This way, married couples can experience the high together, similar to having two straws in the same drink.
Your Choice – Budtenders or Bartenders
If you choose to have a cannabis bar as part of your special day, it is recommended that you have a budtender to join you. So, what are they?
Budtenders are cannabis experts that help your guests find the right strains/products for them. They are basically marijuana sommeliers that facilitate the cannabis experience at the wedding. Budtenders are recommended to ensure that people do not take too much too fast and end up with an unpleasant experience at your wedding. They also can educate your guests on the different cannabis products or different strains available at the wedding.
Overall, they are there to educate guests and allow them to have a safe and enjoyable experience.
The Best Kind of Bar For A Marijuana Marriage – A Dessert Bar
Some couples are evening offering dessert bars at their wedding. But not just any dessert bar – desserts that are infused with cannabis or CBD. These desserts bars are offering a variety of sweet treats such as cookies, brownies, macaroons, cotton candy, chocolate, and cupcakes. So pretty much any dessert you can think of they can provide with a pleasant surprise added to it.
One couple offered an edible bar with six different types of medicated goodies. They actually had $8000 worth of marijuana for their cannabis wedding. Their wedding also featured an outdoor dab bar and a 20 square foot vaping area under a tree surrounded by twinkling lights.
Having an edible bar allows couples to still have the marijuana experience at their wedding without having to deal with the smoke or smell associated with smoking or vaping marijuana products. It also allows people to incorporate weed in a different way into their wedding.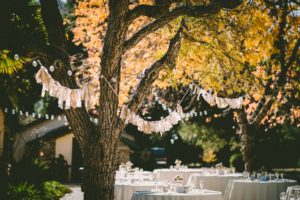 The All-Important Wedding Menu
It wouldn't be a wedding without food!
Good food is an important part of the wedding celebration and good food that also makes you feel good just adds to the overall festive feeling. Cannabis weddings can also include cannabis or CBD infused foods in their dinner. This seems to be one of the most popular ways to incorporate marijuana at weddings.
Couples give the guests an option of having infused or non-infused foods. Sometimes the marijuana is paired with the food to enhance certain flavors in the meal. Other times it is incorporated into the drinks served with the dinner. It is suggested that professionals help with this part of the wedding to help control the amount of cannabis that is consumed by the guests.
It can also be quite expensive to provide these options for weddings, so some people are even including cannabis options in their wedding registry. This will allow the guests to help out with the costs and add to the enjoyable experience for everyone.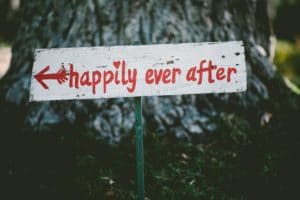 And They All Lived Happily Ever After
Cannabis weddings are growing in popularity and may soon become the norm alongside alcohol served at weddings. Incorporating cannabis at weddings can certainly offer a way for the married couple and their guests to relax and let loose during the wedding celebration, as long as it is done in moderation and safely.
As long as the married couple gets their "happily ever after" – even with the use of marijuana, that's all that matters in the end.